Category: Heaters
FVO-750TRFC
---
Indirect Fired Heater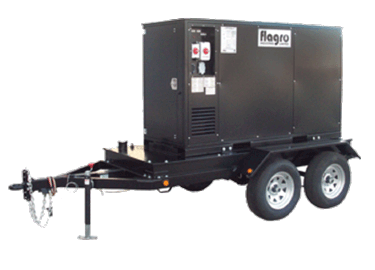 ---
FV-750TR Indirect Fired Heaters in Self-contained Trailers
Two models to choose from:
| | |
| --- | --- |
| FVO-750TRFC | |
Both models feature a primer and powder-coated finish, are DOT approved and include all signal and marker lights.

The FVNP trailer has a single axle with 15" rims and radials.
The FVO trailer has a dual axle with 15" rims and radials and includes second axle brakes. On-board 180 US gallon tank with 110% containment is included. FVO has a 30-hour run time at constant fire with no thermostat, a tiger loop fuel draw and priming systems standard, a 4" C-Channel framed to protect the fuel tank and a 4" spout with anti-splash insert.

FVO and FVNP heaters feature a 130º F temperature rise at 7,000 cfm, created by reverse inclined blower. They are ductable up to 200 ft. and equipped with VFD controls, allowing for a soft start, which regulates fan speed, power and power draw on start up or shut down. 1 phase and 3 phase, 208-230V power supply connections are standard and both models are equipped with dual 16" inlets and outlets.

The proven Flagro heat exchanger design includes fully welded, 16 g 304 stainless steel.
Part # FVO-750TRFC
| | |
| --- | --- |
| Type | Indirect Fired Heaters |
| Heat Capacity | 750,000 BTU/H |
| LP/NG Hose Assembly | |
| Fuel Capacity / Run Time | 180 US GAL/ 30 HRS |
| Fuel Type | Dual |
| Generator | |
| Engine | |
| Power Requirements | 1 Phase 208-230V (18 AMP Draw) |
| Fan Motor / Air Circulation | 7.5 H.P. / 7000 CFM |
| Fan Control | VFD Standard |
| Heat Exchanger | 16 Ga 304 Stainless Steel |
| Ignition | Direct Spark |
| Nozzle Size / Pump Pressure | 4.50 x 60W/ 160PSI |
| Standard Air Outlet | 2 x 16" Dia |
| Optional Air Outlet | N/A |
| Air Inlet | 2 x 16" Dia |
| Wheels | Single Axle - 2 x 15" Gal. Rims with Radial Tires |
| Wheels Kit | |
| Dimensions / Weight | 2980 LBS. |
| Approvals | cETLus |
| Standard Outlet Ducting | FV-HDG16 (16" x 25') |
| Optional Outlet Ducting | N/A |
| Return/Intake Ducting | FV-HDV16 (16" x 25') |
| Thermostat Control | |
| Remote Thermostat | N/A |
| Option | N/A |
| Vented Regulator | |
| Ventless Regulator | |