Hot Items
A Leading Industrial Heater Supplier in Western Canada, Based in Nisku AB
Heater Sales & Service Inc. (HSS) has been providing portable heating products since 2006 throughout Western Canada and the Northwest Territories. HSS is committed to always have the best Canadian-built products backed by industry-standard service and customer care. Whatever your job or project requires, HSS has the products and the know-how to provide the solutions and answers you need to get the job done safely and cost-effectively. HSS has over 50 years of knowledge in the HEAT industry as well as over 100 years of experience in the SERVICE and maintenance industries. Industries we have supported over the years are Oil & Gas, Mining and Exploration, Agriculture, Commercial & Industrial Construction, Power Plants, and Municipalities.
Count on Heater Sales and Service for Quality Products and Service Throughout Western Canada
---
Electric

Heat

  | Gasoline

Heat

  | Propane

Heat 

| Oil

Heat 

|

Natural Gas

Heat

|Permanent

Heat

|
Portable

Heat

| Ductable

Heat

| Direct

Heat

| Indirect

Heat

|  | Deck

Heat 

| Camping

Heat

| Grilling

Heat
Flameless

Heat

  | Radiant

Heat

  | Paint booth

Heat  

| Barn

Heat 

| Infrastructure

Heat

  |  Cottage

Heat
Some of the Heat products we carry in variable sizes are:
Indirect Fired Heaters

Electric Heaters

Direct Fired Heaters

Air Movers

Ducting (HiTex & High Temp Ultra Tex)

as well as a full line of Parts and Service for it all.
Heater Sales and Service is a Proud Member of the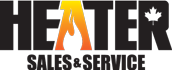 Heater Sales and Service Inc.
"Bringing  Warmth to Your World"
1 (844) 979-HEAT (4328)