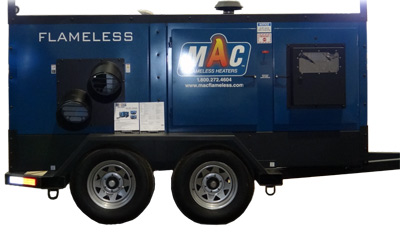 Smart, efficient, flameless heat!
Warm up to the new MAC 750F
Wednesday, June 27, 2012
We at Heater Sales are excited to announce the recent launch of our newest product line –MAC flameless heaters.
As the name suggests, flameless heaters provide clean, safe, reliable air flow with an innovative flameless design.
Why are we so pumped about flameless heaters?
Flameless is safer than either indirect or direct fired heaters, especially if your work involves flammable products like natural gas. Since there is little danger of combustion, thanks to the flameless design, these units can be used to heat from the wellhead to the tank, if needed. Bringing the heat source closer to the job makes these already extremely efficient units even more cost effective.
Heater Sales and Service Inc. offers several models of MAC flameless heaters.
The MAC 750F burns about 3.55 gallons of diesel fuel per hour and is capable of putting out 5,500 cubic feet of air per minute!
The large fuel tank can hold 405 litres of diesel, allowing the unit to operate for up to 30 hours without interruption.
The MAC 750F is completely self-contained and housed in a heavy gauge, welded steel frame trailer, with lockable access doors and room inside for air duct storage.
At 14', 10" long and 6' wide, the MAC 750F has a compact design that is easy to haul, even to remote locations.
Also available are the MAC 550F, the MAC 950F and our largest platform – the MAC 1.25F, is capable of an output of up to 10,000 cubic feet of air per hour on 8.2 gallons of diesel fuel per hour.
There are so many ways a MAC flameless heater can benefit your company, whether you are in the oil and gas industry, mining, environmental services, construction, painting or agriculture. Pre-warm equipment and motors; keep drilling platform cellars warm and ice-free; heat rig floors, employee locker areas and housing; or use these portable units for emergency thawing, pipeline projects, work-over rigs and offshore drilling rigs.
If your project requires safe, dependable, portable heating, call Heater Sales in Nisku today at 780-979-0220 or use the contact form to request a quote.