Heater Sales & Service - Another Great Western Canadian Success Story
Heat -  An Essential Service
Businessman Lee Gottschlich founded Heater Sales and Service Inc. in 2008 when he identified a need for a reliable source of industrial and commercial heating systems in Western Canada. He recognized much of the economy in the West is centred on resource-based industries such as agriculture, energy extraction, and forestry and knew it meant people working outdoors, often in extreme weather conditions. For conscientious companies, providing efficient, dependable sources of warmth from Heater Sales is critical for the comfort and safety of their employees. Comfortable working conditions are essential for workforce productivity and good morale , as well as to prevent profit loss from equipment and products freezing. 
Contractor-Grade Portable or Permanent Heat
Besides resource-based industries, Heater Sales and Service has an impressive inventory of products designed for non-resource related sectors, too, such as construction companies and concrete contractors, plus spray-booth and industrial painting businesses. Municipalities and other governmental entities also profit from Heater Sales' products and services, which can help keep infrastructure working no matter what the weather.
With so many product options, we have the solution to your unique heating requirements
To satisfy their heat-seeking clientele, Heater Sales and Service has a huge selection of heating options available, such as indirect fired, flameless, direct fired and radiant. These units run on a wide range of power sources including gasoline, diesel, natural gas, electricity, propane and oil. Many of Heater's heating products are ductable, too, providing flexibility and efficiency for every heating project.
In addition to heating products, we feature a full line of Professional-Grade Grills
Besides being your full service retailer of heat technology, Heater Sales and Service is your best source for commercial-grade barbecuing grills from the top suppliers such as Silver Giant and Voder. Heater Sales and Service also sells parts and accessories, including air movers, ducting, thermostats, and torches. The fact is; there are few individuals or companies that don't need heating systems somewhere, some time. Check out our Product Pages to learn how Heater Sales can fill that need for you and yours.
Heater Sales and Service Inc is proud to be an Alberta-based company and an active member of the Canadian Rental Association.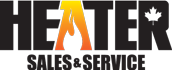 "We Bring Warmth to Your World"